Zoodiac Ratpier
---
Beast-Warrior / Effect
EARTH /
4
---
If this card is Normal Summoned: You can send 1 "Zoodiac" card from your Deck to the Graveyard. An Xyz Monster whose original Type is Beast-Warrior and has this card as Xyz Material gains this effect.
● Once per turn: You can detach 1 Xyz Material from this card; Special Summon 1 "Zoodiac Ratpier" from your hand or Deck.
---
0/0
CARD ID:
78872731
STATUS TCG: Limited
Powered by
yugioh.wikia.com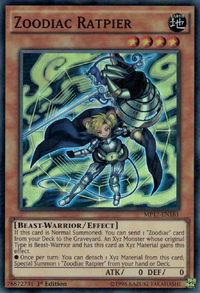 TCG SETS
Card Trivia
This monster is based on the Chinese zodiac sign of the Rat.
---
This monster's first effect is likely a reference to the Rat's experience in The Great Race (an origin story of the Chinese zodiac), where it pushed the Cat into the water.
---
This card's Japanese name seems to be a portmanteau between ラット (pet rat or laboratory rat) and モルモット (guinea pig), both rodents largely raised as experimental animals. Its English name is a portmanteau of rat and rapier.
---
Considering this monster's knight-like appearance, this card's name could also be a reference to the knight Mordred from King Arthur's legends.
---
This monster appears in the artworks of Zoodiac Combo and Dragonic Diagram.
---
This monster's rapier is also wielded by Metaltron XII, the True Dracombatant.
---
This card's second effect cannot currently be used at all in an official Duel as a result of it being Limited.