Zombie Warrior
---
Zombie / Fusion
DARK /
3
---
"Skull Servant" + "Battle Warrior"
---
1200/900
CARD ID:
31339260
Powered by
yugioh.wikia.com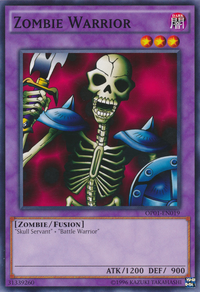 TCG SETS
Card Trivia
Many OCG players realized that Zombies were misspelled as Undeat" instead of Undead after seeing this card's name.
---
Undead monsters like this one are fodder in RPGs. Also, in later Castlevania games, skeletons like this one are monsters that can be fought.
---
Gameplay wise, the only difference between this monster and The 13th Grave is that Zombie Warrior is a Fusion monster.
---
This monster bears a resemblance to the Children of the Hydra" from the film Jason and the Argonauts.