Zefra Providence
---
Normal / Spell
---
Add 1 "Zefra" card from your Deck to your hand, except "Zefra Providence". If a "Zefra" card(s) you control would be destroyed, except the turn this card was sent to the Graveyard, you can banish this card from your Graveyard instead. You can only activate 1 "Zefra Providence" per turn.
CARD ID:
74580251
Powered by
yugioh.wikia.com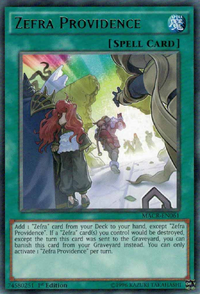 TCG SETS
| TCG Set | Symbol | Rarity | Low | Avg | Trend | |
| --- | --- | --- | --- | --- | --- | --- |
| Maximum Crisis | MACR-EN061 | Rare | 0.02€ | 0.09€ | 0.08€ | |
Card Trivia
Great Sorcerer of the Nekroz, Dance Princess of the Nekroz, Gem-Knight Crystal (with Gem-Knight Lapis on its back), and Gem-Knight Lazuli appear in this card's artwork.
---
Gem-Knight Pearl, Gishki Natalia, and Gishki Noellia appear on the other side immersed in light, seemingly taking Crystal and Lapis to the afterlife.
---
This card's artwork is a reference to Sacred Serpent's Wake.
---
The hero (or heroes) who have just defeated their respective Goddess of rebirth/destruction is shown departing in a weaker form, off into the distance, in the center of the screen.
---
Gishki Avance and Gishki Emilia are together on the left.
---
An ally and member of the hero's archetype is on the right, partially out of the frame.