Xiangke Magician
---
Spellcaster / Pendulum / Effect
DARK /
7 /

3
---
Pendulum Effect: Once per turn: You can target 1 face-up Xyz Monster you control; this turn, you can use it as an Xyz Material for an Xyz Summon using its Rank as if it were a Level (even if this card leaves the field).
---
Monster Effect: Once per turn, during either player's turn: You can target 1 LIGHT monster on the field; that face-up monster has its effects negated until the end of this turn.
---
2500/500
CARD ID:
71692913
Powered by
yugioh.wikia.com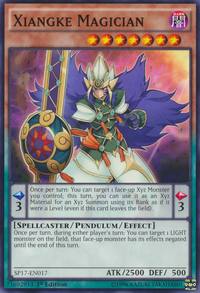 TCG SETS
Card Trivia
This monster has a similar color palette and design to Beast-Eyes Pendulum Dragon.
---
This card is the first card in the OCG/TCG that allows Xyz Monsters to have a Level, although it does such thing in a much different way than anime cards do.
---
Wu Xing, also known as the Five Stages (Wood, Earth, Water, Fire, and Metal), is a fivefold conceptual scheme that many traditional Chinese fields used to explain a wide array of phenomena. In the destructive cycle (相克 xiāngkè; in Japanese sōkoku), one elements breaks down or overcomes the other.
---
This may be reflected in the Pendulum Effect of Xiangke Magician, where it can be interpreted as it breaking down the targeted Xyz Monster's Rank into a Level.
---
This monster also resembles Z-ARC, referencing how he destroyed the Original Dimension.
---
Xiangsheng Magician is named after the opposite cycle.