Wonder Wand
---
Equip / Spell
---
Equip only to a Spellcaster-Type monster. It gains 500 ATK. If you control the equipped monster and this card: You can send both to the Graveyard; draw 2 cards.
CARD ID:
67775894
Powered by
yugioh.wikia.com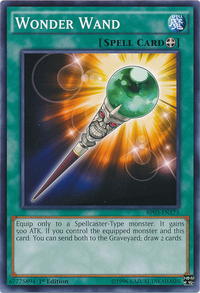 TCG SETS
Card Trivia
This card has two counterparts: Bound Wand and One-Shot Wand.
---
Despite the many times this card was used during the Zexal anime, its second effect was never activated, even though it was shown to have that effect in the anime.