Witch of the Black Rose
---
Spellcaster / Tuner / Effect
DARK /
4
---
Cannot be Special Summoned. If this card is Normal Summoned, and you control no other cards: Draw 1 card and show it, then, if it is not a monster, send it to the GY, also destroy this card.
---
1700/1200
CARD ID:
17720747
Powered by
yugioh.wikia.com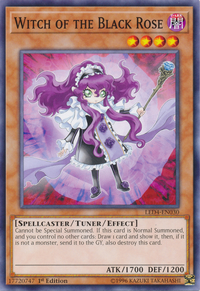 TCG SETS
Card Trivia
This card's Japanese name refers to Akiza Izinski, since she is known as the Black Rose Witch in the Japanese version of the anime.
---
This card's English name may be a reference to Witch of the Black Forest.
---
This card also shows up as the loading screen on Yu-Gi-Oh! 5D's Tag Force 5.
Rulings
---
TCG Rulings
---

"This card cannot be Special Summoned" is not treated as an effect.: Absolute Powerforce - Card Rulings (Version 1.1)

If you have no cards in your Deck when you activate the effect of "Witch of the Black Rose," you will lose the Duel.

If you activate the effect of "Witch of the Black Rose" while you have no cards in your hand and you draw "Infernity Archfiend," you can activate the effect of "Infernity Archfiend."
If you activate the effect of "Witch of the Black Rose" while you have no cards in your hand and you draw "Infernity Archfiend," you cannot activate the effect of "Infernity Archfiend."

You resolve the effect of "Witch of the Black Rose" like this:
-Draw 1 card. If it is a monster, the effect is over.
-If not, destroy "Witch of the Black Rose" and send the card drawn to the Graveyard. (Destroying and sending the card occur at the same time.)


---
OCG Rulings
---

"This card cannot be Special Summoned." is not treated as the effect of an Effect Monster.: Witch of the Black Rose

This effect is a mandatory Trigger Effect that is activated when "Witch of the Black Rose" is Normal Summoned while you control no cards. (It activates even if you have no cards in your Deck.)

If you draw a Monster Card, the last thing to happen when this effect resolves is drawing 1 card.

If you draw a Spell/Trap Card, that Spell/Trap Card is sent to the Graveyard and this card is destroyed. (The last thing to happen when this effect resolves is not drawing 1 card.)