White Magician Pikeru
---
Spellcaster / Effect
LIGHT /
2
---
During your Standby Phase, increase your Life Points by 400 points for each monster on your side of the field.
---
1200/0
CARD ID:
81383947
Powered by
yugioh.wikia.com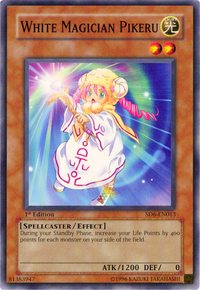 TCG SETS
Card Trivia
This card has a DARK counterpart: Ebon Magician Curran.
---
According to the Master Guide 2 card storylines, Ebon Magician Curran is this monster's twin sister.
---
This monster appears in the artworks of the following cards:
---
Trial of the Princesses
---
A Rival Appears!
---
Pikeru's Circle of Enchantment
---
Pikeru's Second Sight
---
Synchro Spirits
---
Guts Guard
---
Revenge Attack
---
This monster is wearing a Scapegoat hat.
---
This card has an upgraded version: Princess Pikeru.
---
Despite being a female monster, this card's Spanish name is masculine (Mago Blanco instead of Maga Blanca).
---
, a character in the franchise shares many similarities to this card, maybe even based on it.
Rulings
Previously Official Rulings
Monster Tokens
and face-down monsters are included for "
White Magician Pikeru's
" effect.
Even if there are many monsters, "White Magician Pikeru" increases Life Points by 1 lump sum.
"White Magician Pikeru" includes itself in its effect.
If you resolve "
White Magician Pikeru's
" effect and then in the same Standby Phase the number of monsters on the field increases, you don't get additional Life Points.