Unexpected Dai
---
Normal / Spell
---
If you control no monsters: Special Summon 1 Level 4 or lower Normal Monster from the Deck.
CARD ID:
00911883
Powered by
yugioh.wikia.com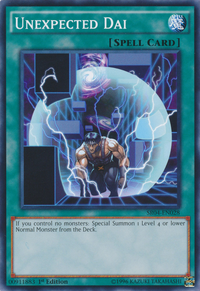 TCG SETS
Card Trivia
Warrior Dai Grepher appears in this card's artwork.
---
This card's artwork is a reference to the scenes in the Terminator films where the Terminator antagonist first appears in the current time period in which the films are set, kneeling in a blue energy sphere that dissolves any foreign objects within its radius.
---
The name of this card in Japanese is a pun. The Japanese word for unexpected is Yosōgai (予想外), where the 外 has the same pronunciation as guy.