Trap of the Imperial Tomb
---
Normal / Trap
---
When a Zombie-Type monster(s) is Special Summoned from your opponent's Graveyard to your side of the field: Target 2 cards on the field; destroy those targets.
CARD ID:
80955168
Powered by
yugioh.wikia.com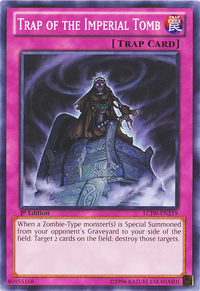 TCG SETS
Rulings
---
OCG Rulings
---
This card target
Previously Official Rulings
This card targets the 2 cards to be destroyed.
You cannot activate this card during the Damage Step.