Trade-In
---
Normal / Spell
---
Discard 1 Level 8 monster; draw 2 cards.
CARD ID:
38120068
Powered by
yugioh.wikia.com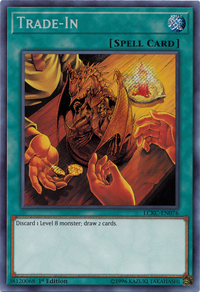 TCG SETS
Card Trivia
The statuette pictured is a model of Felgrand Dragon.
---
The statuette is being traded for two gold coins, representing the two cards you draw from this card's effect.
---
The two gold coins feature Winged Kuriboh on them. Such coins also appear in the artwork of Lucky Chance.
---
This card's effect is similar to that of Advance Draw and Sacred Sword of Seven Stars in that all three cards are Normal Spell Cards that require the Cost of a high-Level monster to draw two cards.
---
The first Spanish card print listed its name as Intercambio. Since there was already a card with that name (Exchange), its name was changed in subsequent prints to Canjear.