Topologic Gumblar Dragon
---
Cyberse / Link / Effect
---
2+ Effect Monsters
If another monster is Special Summoned to a zone a Link Monster points to, while this monster is on the field: Discard 1 or 2 random cards, then your opponent discards the same number. If this card is Extra Linked and your opponent has at least 1 card in their hand: You can make your opponent discard 1 or 2 cards (whichever is higher), then, if they have no more cards in their hand, inflict 3000 damage to them. You can only use 1 "Topologic Gumblar Dragon" effect per turn, and only once that turn.
---
ATK/3000 [LINK-4]
CARD ID:
22953417
STATUS TCG: Forbidden
Powered by
yugioh.wikia.com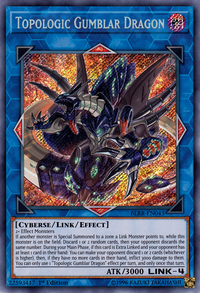 TCG SETS
Card Trivia
Gumblar is a malicious JavaScript trojan horse file that redirects a user's Google searches, and then installs rogue security software. Also known as Troj/JSRedir-R, this botnet first appeared in 2009.
---
This card is the first Link Monster to appear in the anime with an effect that mentions being Extra Linked.
---
In the real card game, it is also the first Legal Link Monster with an effect that involves Extra Linking.