Tlakalel, His Malevolent Majesty
---
Fiend / Effect
DARK /
5
---
If this card is Tribute Summoned: You can destroy any number of face-up monsters your opponent controls whose combined ATK is less than or equal to the original ATK of the monster Tributed to Tribute Summon this card.
---
2400/1000
CARD ID:
82319644
STATUS TCG:
Powered by
yugioh.wikia.com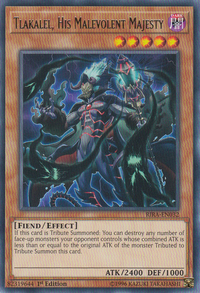 TCG SETS
Card Trivia
This monster's name is based on Tlacaelel I, an ancient Aztec adviser to the head ruler.
---
Three Torment Tokens appear in this card's artwork.