Thunder Dragon Titan
---
Thunder / Fusion / Effect
LIGHT /
10
---
3 "Thunder Dragon" monsters
Must be either Fusion Summoned, or Special Summoned by banishing 1 Thunder monster from your hand and 1 Thunder Fusion Monster you control, except "Thunder Dragon Titan" (in which case you do not use "Polymerization"). When a Thunder monster's effect is activated in the hand, even during the Damage Step (Quick Effect): You can destroy 1 card on the field. If this card would be destroyed by card effect, you can banish 2 cards from your GY instead.
---
3200/3200
CARD ID:
41685633
STATUS TCG: Unlimited
Powered by
yugioh.wikia.com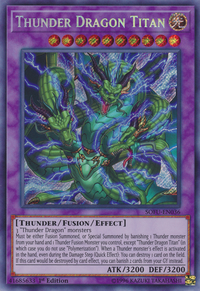 TCG SETS
Card Trivia
This monster appears in the artwork of Thunder Dragon Discharge.
---
This card's ATK and DEF are equal to twice the original ATK of Thunder Dragon.
---
Fittingly, this card also appears to be a three-headed version of the said monster.