Thousand-Eyes Idol
---
Spellcaster
DARK /
1
---
''A wicked entity that controls the hearts of men, its thousand eyes are able to see and expand the negative influences in an individual's soul.''
---
0/0
CARD ID:
27125110
Powered by
yugioh.wikia.com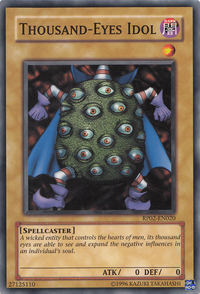 TCG SETS
Card Trivia
This monster appears in the artworks of Dice Crisis and Relinquished Fusion.
---
This card's Japanese name roughly refers to it being a god of a religion that is outside the mainstream, but not necessarily in the sense of an evil one.
---
This card, Hieratic Seal of the Sun Dragon Overlord and Soitsu are currently the weakest Normal Monsters in the game, excluding Token Monsters.
---
This card has the lowest stats possible for any monster in the game, being Level 1, having 0 ATK & DEF and no effect.
---
This card had 18 visible eyes.