There Can Be Only One
---
Continuous / Trap
---
Each player can only control 1 monster of each Type. If a player controls 2 or more monsters of the same Type, they must send some to the GY so they control no more than 1 monster of that Type.
CARD ID:
24207889
STATUS TCG:
Powered by
yugioh.wikia.com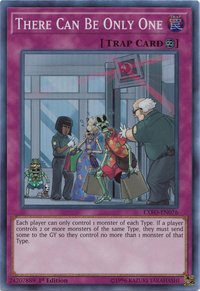 TCG SETS
| TCG Set | Symbol | Rarity | Low | Avg | Trend | |
| --- | --- | --- | --- | --- | --- | --- |
| Extreme Force | EXFO-EN076 | Super Rare | 5.50€ | 6.43€ | 8.12€ | |
Card Trivia
King of the Skull Servants, The Lady in Wight, Wightprince and Skull Dog Marron appears in this card's artwork.
---
This continues the events from Quarantine.
---
This card's TCG name comes from one of the primary taglines of the franchise.
---
This card is a counterpart to Rivalry of Warlords. While Rivalry of Warlords only allows each player to control monsters of a single type, this card only allows them to control monsters of different types.
---
This card's Japanese name is a pun on the phrase 千差万别 (せんさばんべつ/Sensa Banbetsu), which means diverse and varied. This is reflected in the effect which forces a player to control a variety of monster types instead of a single type.