The Melody of Awakening Dragon
---
Normal / Spell
---
Discard 1 card; add up to 2 Dragon monsters with 3000 or more ATK and 2500 or less DEF from your Deck to your hand.
CARD ID:
48800175
Powered by
yugioh.wikia.com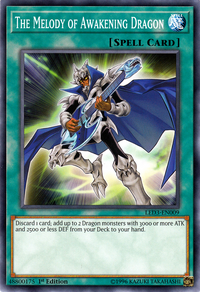 TCG SETS
Card Trivia
This card is the counterpart to The Flute of Summoning Dragon.
---
Lord of D. appears in this card's artwork.
---
The guitar Lord of D. is playing is based on Blue-Eyes White Dragon. This is fitting, since this card's minimum ATK requirement and maximum DEF requirement for searching out Dragon-Type monsters are the same as the ATK and DEF of Blue-Eyes, respectively.
Rulings
---
OCG Rulings
---
Discarding 1 card from your hand is a cost to activate this card.
: The Melody of Awakening Dragon
You choose whether to add 1 or 2 Dragon-Type monsters to your hand when this effect resolves. (You don't need to declare this when the card is activated.)