Tatsunecro
---
Zombie / Tuner / Effect
DARK /
3
---
If this Normal Summoned/Set monster would be used as Synchro Material, 1 monster in your hand can be used as 1 of the other materials. If you do this, all materials from that Summon are banished instead of being sent to the GY. You cannot Special Summon monsters, except Zombie monsters.
---
500/1700
CARD ID:
03096468
STATUS TCG: Not yet released
Powered by
yugioh.wikia.com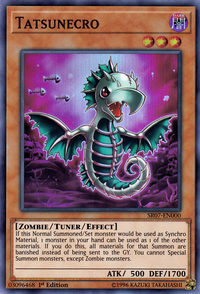 TCG SETS
Card Trivia
This monster is a Zombie counterpart to Tatsunoko.