Svartalf of the Nordic Alfar
---
Spellcaster / Tuner / Effect
DARK /
5
---
When this card is Normal Summoned: You can target 1 "Nordic" monster in your GY; add that target to your hand.
---
1400/1600
CARD ID:
77060848
Powered by
yugioh.wikia.com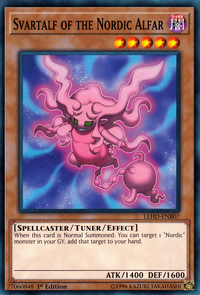 TCG SETS
Card Trivia
In Norse mythology, Svartálf or dark elves are supernatural beings that are said to reside in the underground world of Svartalfheim.
---
This card's Japanese name, Dökkálfar are the combination of Old Norse words dökkr (dark) and álfar (elves).
Rulings
---
TCG Rulings
---

This Trigger effect targets 1 "Nordic" monster in your Graveyard. : Storm of Ragnarok -- Card Rulings (Version 1.0)