Superdreadnought Rail Cannon Gustav Max
---
Machine / Xyz / Effect
EARTH /
10
---
2 Level 10 monsters
Once per turn: You can detach 1 material from this card; inflict 2000 damage to your opponent.
---
3000/3000
CARD ID:
56910167
Powered by
yugioh.wikia.com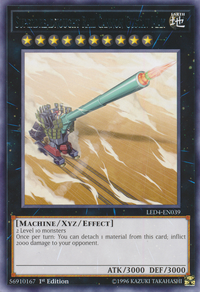 TCG SETS
Card Trivia
This monster appears in the artwork of Barrage Blast and Upgrade.
---
This monster is potentially based on the Schwerer Gustav, one of the biggest artillery pieces ever to have been fielded into battle.
---
This monster could also be based on the Langer Gustav, an even bigger cannon that was never completed due to it being damaged from bombing raids mid-construction.
---
This was the first Rank 10 monster to be released in OCG/TCG.
Rulings
---
OCG Rulings
---
Even if the "Superdreadnought Rail Cannon Gustav Max" that activated its effect is flipped face-down or destroyed and sent to the Graveyard, its effect still resolves.
: Effect Monster > Superdreadnought Rail Cannon Gustav Max