Super Express Bullet Train
---
Machine / Effect
EARTH /
10
---
Cannot declare an attack unless you send 2 other cards you control to the GY. You can only use each of these effects of "Super Express Bullet Train" once per turn.
● If all monsters you control are EARTH Machines (min. 1): You can Special Summon this card from your hand.
● During the End Phase, if this card is in the GY because it was sent there this turn: You can target 1 Machine monster in your GY, except "Super Express Bullet Train"; add it to your hand.
---
3000/0
CARD ID:
52481437
Powered by
yugioh.wikia.com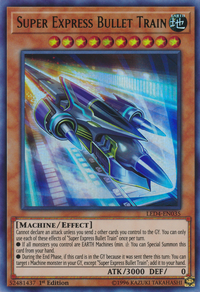 TCG SETS
Card Trivia
This monster is based on the Shinkansen; known as a Bullet Train outside Japan. It is one of the fastest trains ever produced, which may be represented by this monster's high ATK.
---
Visually it also seems to be inspired by the Turbojet Train, which Rocket Arrow Express is based on.
---
The card also has a few allusions to "". The front car appears to be shaped similar to that monster's head and the two monsters share the same ATK value.