Subterror Guru
---
Dragon / Flip / Effect
EARTH /
4
---
FLIP: You can add 1 "Subterror" card from your Deck to your hand, except "Subterror Guru".
You can target 1 other face-up monster on the field; change both it and this card to face-down Defense Position. This effect can be activated during either player's turn, if you control another "Subterror" card. You can only use each effect of "Subterror Guru" once per turn.
---
1600/1800
CARD ID:
16428514
STATUS TCG: Not yet released
Powered by
yugioh.wikia.com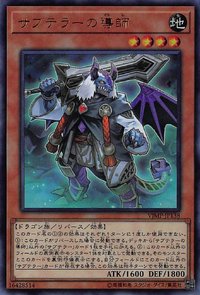 Card Trivia
This card is the first Dragon Flip monster.
---
Subterror Guru is the second Subterror card that was not introduced in the TCG first, following Subterror Behemoth Fiendess.
---
This card is also the second Level 4 Subterror monster following Subterror Nemesis Warrior, thus breaking the tradition of having 1 monster per Level of this archetype.
---
Subterror Behemoth Speleogeist bears a resemblance to this monster, which might mean the former being its true form.