Stronghold the Moving Fortress
---
Continuous / Trap
---
Special Summon this card in Defense Position as an Effect Monster (Machine-Type/EARTH/Level 4/ATK 0/DEF 2000). (This card is also still a Trap Card.) While you control "Green Gadget", "Red Gadget", and "Yellow Gadget", this card gains 3000 ATK.
CARD ID:
13955608
Powered by
yugioh.wikia.com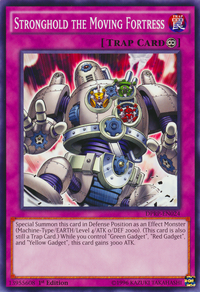 TCG SETS
Card Trivia
In reference to this card's effect, Green Gadget, Red Gadget and Yellow Gadget appear in this card's artwork.
---
In some video games this card, and in the anime, has a second artwork with a G in place of Green Gadget, a R in place of Red Gadget and a Y in place of Yellow Gadget. Spelling G-Y-R, referring to the word Gear.
---
This card's first Japanese printing labeled it as a Normal Trap Card, instead of a Continuous Trap Card.
---
This was the first Trap Monster to originally be a Normal Trap Card instead of a Continuous Trap Card. It was followed by The Phantom Knights of Shadow Veil.
---
This card's OCG/TCG artwork is taken from Yu-Gi-Oh! Millennium World - Duel 061, specifically from the panel where the 3 Gadget monsters are shown attached to this monster.
---
This card has a retrained counterpart: Metalhold the Moving Blockade.
Rulings


Trap Monster Rulings
{{:Card Rulings:Trap Monster