Speedroid Terrortop
---
Machine / Effect
WIND /
3
---
If you control no monsters, you can Special Summon this card (from your hand). When this card is Normal or Special Summoned: You can add 1 "Speedroid" monster from your Deck to your hand, except "Speedroid Terrortop". You can only use this effect of "Speedroid Terrortop" once per turn.
---
1200/600
CARD ID:
81275020
STATUS TCG: Limited
Powered by
yugioh.wikia.com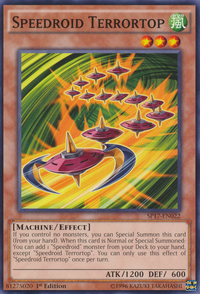 TCG SETS
Card Trivia
This monster's appearance is based on a Beigoma
---
Its name is a portmanteau of Beigoma (貝独楽 beigoma) and Max (マックス makkusu).
---
This card may also be loosely based on, if not a reference to, Takara Tomy's toy line or .
---
This can be supported by the fact the front most top literally has blades on it.
---
This card is the first, and currently the only Speedroid monster to be Limited in OCG (and later in TCG as well).