Signal Warrior
---
Warrior / Synchro / Effect
LIGHT /
7
---
1 Tuner + 1+ non-Tuner monsters
Once per turn, during the Standby Phase: Place 1 Signal Counter on this card, and all face-up cards in the Field Zones. While this card has a Signal Counter(s), it cannot be destroyed by battle, or opponent's card effect. Once per turn: You can remove 4, 7 or 10 Signal Counters from anywhere on the field; apply this effect, depending on the number of Signal Counters removed
●4: Inflict 800 damage to your opponent.
●7: Draw a card.
●10: Destroy 1 card on the field.
---
2400/1000
CARD ID:
09634146
STATUS TCG: Not yet released
Powered by
yugioh.wikia.com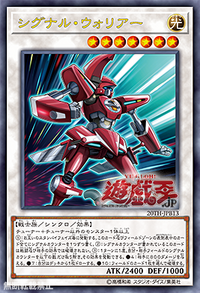 Card Trivia
This card's effects of placing counters on cards in the Field Zone and removing a specific number of counters to activate other effects are a reference to Speed World 2's Speed Counter system.
---
This monster's appearance is based on Yusei Fudo's Duel Runner, the Yusei Go.
---
This is the second Synchro Monster whose design is based on said Duel Runner; the first being Accel Synchron.