Scrap Recycler
---
Machine / Effect
EARTH /
3
---
When this card is Normal or Special Summoned: You can send 1 Machine monster from your Deck to the GY. Once per turn: You can shuffle 2 Level 4 EARTH Machine monsters from your GY into the Deck; draw 1 card.
---
900/1200
CARD ID:
04334811
STATUS TCG: Unlimited
Powered by
yugioh.wikia.com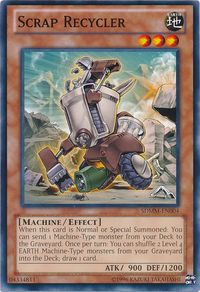 TCG SETS
Card Trivia
This monster's body is composed of the revolving nosepiece of Morphtronic Scopen, part of the arm of Machina Soldier, and the wheel of Machina Peacekeeper.
---
Despite being a Scrap monster, this monster does not look similar to other members of that archetype. This is because this card was released before such an archetype had been visualized.
---
As a result, this card does not fully support the Scrap archetype; only three other Scrap monsters are valid targets for Scrap Recycler's first effect, none of which are Level 4, meaning that no Scrap monster is a valid target for Scrap Recycler's second effect.
---
This monster appears in the artworks of Scrap Factory and Iron Call.
Rulings
---
TCG Rulings
---

You can still send 1 Machine-Type monster from your Deck to the Graveyard if you Special Summon "Scrap Recycler" during the Damage Step.: Machina Mayhem Structure Deck – Card Rulings (Version 1.0)

Returning 2 Level 4 Machine-Type EARTH monsters from your Graveyard to the Deck is a cost.


---
OCG Rulings
---

The "When this card is Normal or Special Summoned: You can send 1 Machine-Type monster from your Deck to the Graveyard." effect is a Trigger Effect. (It does not target. It can be activated during the Damage Step.): Scrap Recycler

The "Once per turn: You can shuffle 2 Level 4 EARTH Machine-Type monsters from your Graveyard into the Deck; draw 1 card." effect is an Ignition Effect. (Shuffling 2 Level 4 EARTH Machine-Type monsters from your Graveyard into the Deck is a cost to activate this effect.)