Scapeghost
---
Zombie / Flip / Tuner
DARK /
1
---
FLIP: You can Special Summon any number of "Black Sheep Tokens" (Zombie/DARK/Level 1/ATK 0/DEF 0).
---
0/0
CARD ID:
67284107
Powered by
yugioh.wikia.com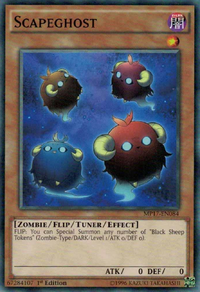 TCG SETS
Card Trivia
This card is the Zombie counterpart of Scapegoat.
---
Its name is also a pun off that card and the card's overall properties are nearly identical to the properties of the Sheep Tokens Special Summoned with Scapegoat.
---
This card is the first Zombie counterpart of a Spell Card.