Saqlifice
---
Equip / Spell
---
Equip only to a "Qli" monster. It gains 300 ATK and cannot be destroyed by battle. The equipped monster can be treated as 2 Tributes for the Tribute Summon of a "Qli" monster. If this card is sent from the field to the Graveyard: You can add 1 "Qli" monster from your Deck to your hand.
CARD ID:
17639150
STATUS TCG: Unlimited
Powered by
yugioh.wikia.com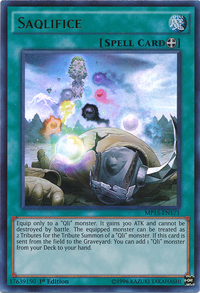 TCG SETS
Card Trivia
This card's artwork features Naturia Sacred Tree absorbing the spheres/pearls from the corpse of El Shaddoll Grysta.
---
The spheres being absorbed represent the different Gem-Knights that made up Gem-Knight Master Diamond's body (who would later become El Shadoll Grysta).
---
The ten spheres seen in the artwork also have the same colors as every different card frame used in the game and anime: Yellow (Normal Monster), Orange (Effect Monster), Blue (Ritual Monster), Purple (Fusion Monster), White (Synchro Monster), Gray (Token Monster/Dark Synchro Monster), Black (Xyz Monster), Two-Color (Pendulum Monster), Green (Spell Card), and Pink (Trap Card).
---
The spheres also appear to be the same ones that appear on various Qli monsters.
---
This card's Japanese name features a pun based on the fact that part of the words sacrifice and Qliphoth are pronounced identically in Japanese.
---
This carries into the English translation, being a portmanteau of sacrifice and Qli.
---
The base of this card's Japanese name translates to Sacrifice of the Machine Husks.
---
The Sacrifice used in this card's Japanese names is almost the same as the Sacrifice used on early Yu-Gi-Oh! OCG cards before being superseded by Release", fitting the Tribute Summon-centered gameplay of the archetype.