SPYRAL Quik-Fix
---
Machine / Effect
EARTH /
1
---
If this card is Normal or Special Summoned: You can add 1 "SPYRAL GEAR" card from your Deck to your hand. If this card is in your GY and you control "SPYRAL Super Agent": You can discard 1 card; Special Summon this card, but banish it when it leaves the field.
---
500/400
CARD ID:
78080961
STATUS TCG: Limited
Powered by
yugioh.wikia.com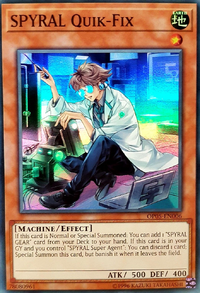 TCG SETS
Card Trivia
This monster appears in the artworks of SPYRAL MISSION - Rescue and SPYRAL Resort.
---
This monster bears resemblance to Hal Otacon Emmerich from the Metal Gear video game franchise.