Revendread Slayer
---
Zombie / Ritual / Effect
DARK /
6
---
You can Ritual Summon this card with any "Vendread" Ritual Spell. Once per battle, if this card battles an opponent's monster, during damage calculation (Quick Effect): You can banish 1 Zombie monster from your GY; this card gains 300 ATK. If this Ritual Summoned card is sent to the GY: You can add 1 Ritual Spell from your Deck to your hand, and if you do, send 1 "Vendread" monster from your Deck to the GY. You can only use this effect of "Revendread Slayer" once per turn.
---
2400/0
CARD ID:
04388680
Powered by
yugioh.wikia.com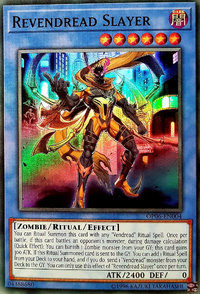 TCG SETS
Card Trivia
This card is a younger version of Revendread Executor and Advendread Savior
---
The origin of Revendread Slayer can be found in the artwork of Revendread Origin, in which he obtained the power of the Vendread to save (or avenge) his wife.
---
This monster also appears in the artworks of Vendread Nights, Vendread Reunion, and Vendread Revolution.
---
This monster's appearance, along with backstory, could be a possible reference to Spawn, the Image Comics anti-hero.
---
This card also resembles the Parasite Super Tyrant from Resident Evil: Operation Raccoon City. Both have discolored skin and large spider legs attached to their backs.