Redeemable Jar
---
Continuous / Trap
---
You can banish 1 Trap from your GY; add from your GY to your hand, 1 Trap with a different original name from that banished card. You can only use this effect of "Redeemable Jar" once per turn.
CARD ID:
84404797
STATUS TCG: Not yet released
Powered by
yugioh.wikia.com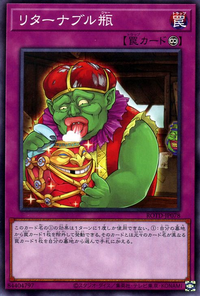 TCG SETS
Card Trivia
Jar of Greed, Goblin of Greed, and Pot of Greed appear in this card's artwork.