Red-Eyes Dark Dragoon
---
Spellcaster / Fusion / Effect
DARK /
8
---
"Dark Magician" + "Red-Eyes B. Dragon" or 1 Dragon Effect Monster
Cannot be target or destroyed by card effects. During your Main Phase: You can destroy 1 monster your opponent controls, and if you do, inflict damage to your opponent equal to its original ATK. This effect can be used per turn up to a number of Normal Monsters used as Fusion Material for this card. Once per turn: when a card or effect is activated (Quick Effect): You can discard 1 card; negate the activation, and if you do, destroy that card, and if you do, this card gains 1000 ATK.
---
3000/2500
CARD ID:
37818794
STATUS TCG: Not yet released
Powered by
yugioh.wikia.com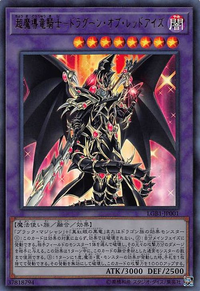 Card Trivia
This monster's appearance is based on Dark Paladin and Red-Eyes B. Dragon fused together.
---
Fittingly, Dark Magician is one of the Fusion Materials needed to Fusion Summon the former.
---
This monster's armor is similar to Lord of the Red.
---
This card is a reference to the friendship between Yugi Muto and Joey Wheeler (not unlike Dark Paladin), with their respective ace monsters being Dark Magician and Red-Eyes B. Dragon.
---
Its name is also similar to Rainbow Neos.
---
This monster is similar to Number F0: Utopic Future Dragon, as both are a combination of a main protagonist's humanoid ace monster and their best friend's draconic ace monster.