Raidraptor - Arsenal Falcon
---
Winged Beast / Xyz / Effect
DARK /
7
---
2 Level 7 monsters
Once per turn: You can detach 1 material from this card; Special Summon 1 Level 4 Winged Beast monster from your Deck. If this card has a "Raidraptor" monster(s) as Xyz Material, it can attack a number of times each Battle Phase, up to the number of materials attached to it. If this card is sent to the GY while it has a "Raidraptor" monster as material: You can Special Summon 1 "Raidraptor" Xyz Monster from your Extra Deck, except "Raidraptor - Arsenal Falcon", and if you do, attach this card from the GY to that Xyz Monster as material.
---
2500/2000
CARD ID:
96157835
STATUS TCG: Not yet released
Powered by
yugioh.wikia.com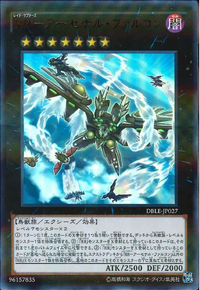 Card Trivia
Raidraptor - Fuzzy Lanius, Pain Lanius, Sharp Lanius, Singing Lanius, Tribute Lanius, and Vanishing Lanius appear in the artwork of this card.
---
Besides Pain Lanius, all those cards can be summoned by Arsenal Falcon.
---
This card appears to be based on airborne aircraft carriers.