Rabid Horseman
---
Beast-Warrior / Fusion
EARTH /
6
---
"Battle Ox" + "Mystic Horseman"
---
2000/1700
CARD ID:
94905343
Powered by
yugioh.wikia.com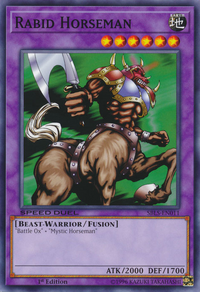 TCG SETS
Card Trivia
In The Duelist Of The Roses, when Rabid Horseman appears as a 3D monster, it can be seen wearing the exact same armor as Battle Ox instead of wearing a purple-colored armor.
---
This card's Japanese name is comprised of centaurus (the Japanese name of Mystic Horseman, a centaur) nested inside minotaurus (the Japanese name of Battle Ox, a Minotaur).
---
The two monsters used as this card's Fusion materials are based on the minotaur and centaur of Greek mythology, a detail pointed out by Kaiba when he first Summoned Rabid Horseman in the manga.
---
This monster appears in the artwork of Avalanche.
---
The Spanish Metal Raiders print of this card has its Type printed as Guerrero Béstia instead of Guerrero-Bestia.