Puppet Master
---
Fiend / Effect
DARK /
6
---
When this card is Tribute Summoned: You can pay 2000 Life Points to target 2 Fiend-Type monsters in your Graveyard; Special Summon those targets. They cannot attack this turn.
---
/
CARD ID:
41442341
STATUS TCG: Unlimited
Powered by
yugioh.wikia.com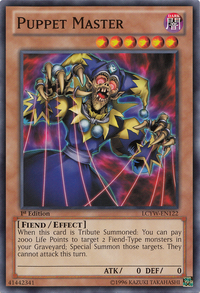 TCG SETS
Card Trivia
This card's OCG/TCG artwork is taken from , specifically from the panel where it Special Summons Headless Knight, Dark Necrofear and Gernia from Dark Bakura's Graveyard.
Rulings
Previously Official Rulings
Paying 2000 Life Points is a cost.
: December 02, 2008: CSOC Rules Updates
You cannot activate "Puppet Master's" effect if you don't have 2 or more Fiend-Type monsters in your Graveyard that you can Special Summon.
If "Skill Drain" is activated during the same turn the Fiend-Type monsters are Special Summoned by the effect of "Puppet Master", the Fiend-Type monsters still cannot attack that turn.