Photon Hand
---
Normal / Spell
---
If you control a "Photon" or Galaxy" monster: Pay 1000 LP, then target 1 monster your opponent controls; take control of it. If you do not control "Galaxy-Eyes Photon Dragon" at activation, you can only target an Xyz Monster. You can only activate 1 "Photon Hand" per turn.
CARD ID:
15520842
STATUS TCG: Unlimited
Powered by
yugioh.wikia.com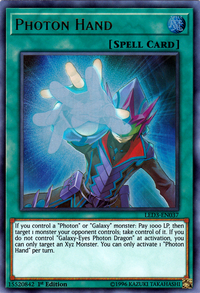 TCG SETS
Card Trivia
This card is a reference to the Photon Hand, which Kite used to steal "Numbers" from his opponents and in the process, their soul, all of which are Xyz Monsters.
---
Numeral Hunter appears in this card's artwork.