Performapal Secondonkey
---
Beast / Effect
EARTH /
4
---
When this card is Normal or Special Summoned: You can send 1 "Performapal" monster from your Deck to the Graveyard, except "Performapal Secondonkey". If you have 2 cards in your Pendulum Zones, you can add it to your hand instead.
---
1000/2000
CARD ID:
15978426
Powered by
yugioh.wikia.com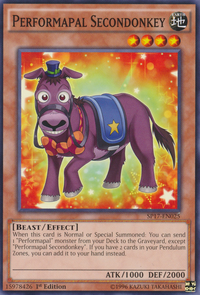 TCG SETS
Card Trivia
This card's name is a portmanteau of Second and Donkey.
---
This card is the second donkey referencing Performapal Friendonkey, the first Performapal donkey. Both also bear very similar effects in the anime.