Performapal Guitartle
---
Aqua / Pendulum / Effect
WATER /
1 /

6
---
Pendulum Effect: If a "Performapal" card is activated in your other Pendulum Zone: You can draw 1 card. You can only use this effect of "Performapal Guitartle" once per turn.
---
Monster Effect: Once per turn: You can target 1 card in your Pendulum Zone; increase its Pendulum Scale by 2 until the end of this turn.
---
300/400
CARD ID:
53724621
Powered by
yugioh.wikia.com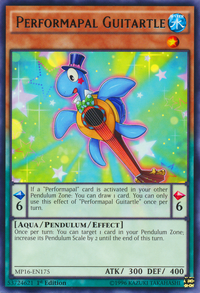 TCG SETS
Card Trivia
This card's name is a portmanteau of Guitar (ギター gitā) and Turtle (タートル tātoru).
---
This monster appears in the artwork of Performapal Pendulum Art and Clean.