Pendulum Fusion
---
Normal / Spell
---
Fusion Summon 1 Fusion Monster from your Extra Deck, using monsters you control as Fusion Materials. If you have 2 cards in your Pendulum Zones, you can also use cards in your Pendulum Zones as Fusion Material(s). You can only activate 1 "Pendulum Fusion" per turn.
CARD ID:
65646587
Powered by
yugioh.wikia.com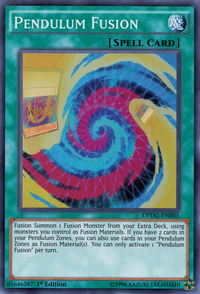 TCG SETS
Card Trivia
The two Fusion Materials featured in the artwork of Polymerization appear in this card's artwork as Pendulum Monsters.
---
Furthermore, the background features the pattern present when one Pendulum Summons in the anime.
---
This card is a reference to Yuri being one of Yuya's personas. Thus giving Yuri access to Pendulum.