Opening of the Spirit Gates
---
Continuous / Spell
---
When this card is activated: Add 1 "Uria, Lord of Searing Flames", 1 "Hamon, Lord of Striking Thunder", 1 "Raviel, Lord of Phantasms", or 1 monster that specifically lists any of those names in its text, from your Deck to your hand. Once per turn: You can discard 1 card; Special Summon 1 Fiend monster with 0 ATK and DEF from your GY. Once per turn, if you control a Level 10 monster: You can add 1 Continuous Spell from your GY to your hand. You can only activate 1 "The Seven Spirit Gates Unleashed" per turn.
CARD ID:
80312545
STATUS TCG: Not yet released
Powered by
yugioh.wikia.com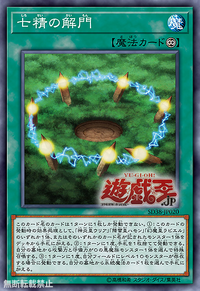 TCG SETS
Card Trivia
The card's artwork is based on the Spirit Gates opening to unleash the Sacred Beasts, as seen in episode 48 of Yu-Gi-Oh! GX.