Ominous Fortunetelling
---
Continuous / Trap
---
During your Standby Phase, select 1 random card from your opponent's hand. Call the type of card (Monster, Spell, or Trap). If you call it right, inflict 700 points of damage to your opponent's Life Points. You can use this effect once per turn.
CARD ID:
56995655
Powered by
yugioh.wikia.com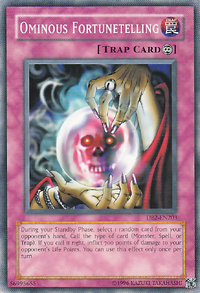 TCG SETS
Rulings
: Ominous Fortunetelling


Previously Official Rulings

The opponent must reveal the randomly selected card to you after you call a type to confirm if you were right or wrong.

If the opponent's hand is revealed by the effect of "Mind on Air", etc., turn his/her hand face-down and then randomly select a card.

If you have two copies of "Ominous Fortunetelling" on the field, you select a card and call a type for the first copy, and then select a new card and call a type again for the second copy.