Odd-Eyes Phantom Dragon
---
Dragon / Pendulum / Effect
DARK /
7 /

4
---
Pendulum Effect: Once per turn, when an attack is declared involving your face-up monster and an opponent's monster, if you have an "Odd-Eyes" card in your other Pendulum Zone: You can make that monster you control gain 1200 ATK until the end of the Battle Phase (even if this card leaves the field).
---
Monster Effect: When this Pendulum Summoned card inflicts battle damage to your opponent by attacking: You can inflict damage to your opponent equal to the number of "Odd-Eyes" cards in your Pendulum Zones x 1200. You can only use this effect of "Odd-Eyes Phantom Dragon" once per turn.
---
2500/2000
CARD ID:
93149655
Powered by
yugioh.wikia.com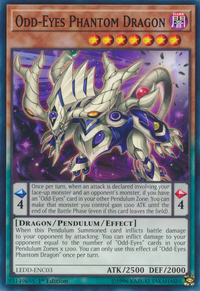 TCG SETS
Card Trivia
This monster is the manga counterpart to Odd-Eyes Pendulum Dragon.
---
Their effects mirror each other; while both of their Pendulum Effects activate when a Pendulum Monster battles and the regular effect deals additional damage while battling, the actual functions of their effects greatly contrast each other.
---
True to its counterpart status, while most of the body of Pendulum Dragon is red, this monster has its body mostly blue, making these 2 monsters represent opposite sides of the Pendulum Scale.
---
This monster is a Pendulum counterpart to Starving Venemy Dragon, Clearwing Fast Dragon and Dark Anthelion Dragon.
---
It shares the same ATK of 2500 as of the other signature cards: Dark Magician, Elemental Terra Firma Neos, Stardust Spark Dragon and Number 39: Utopia. These monsters are respectively the signature cards of Yugi Muto, Jaden Yuki, Yusei Fudo and Yuma Tsukumo, the previous protagonists from the first four series of the manga
---
This monster's Attribute and Level are the same as Yugi Muto's Dark Magician: a Level 7 DARK monster.
---
This card has Offensive effect like Elemental HERO Terra Firma rather than a defensive one, like Stardust Spark Dragon and Number 39: Utopia.
---
This card's name is a reference to the Deck archetypes of Yuya Sakaki and Yuto in the Yu-Gi-Oh! ARC-V anime. Yuya uses Odd-Eyes monsters, while Yuto uses The Phantom Knights monsters. This symbolizes that Yuya's and Yuto's manga counterparts share the same body.
---
Yuya himself is also called Phantom, in the manga.
---
This monster has physical qualities of each of the Four Dimension Dragons, reflecting how Yuya shares his body with his counterparts in the manga.
---
Its chest plate, horns, and limbs are similar to those of Odd-Eyes Pendulum Dragon.
---
It has the same chin spike as Dark Rebellion Xyz Dragon (Yuto).
---
The pattern on its lower neck and its fingers and toes are similar to those of Clear Wing Synchro Dragon (Yugo).
---
Its head and body are similar to those of Starving Venom Fusion Dragon (Yuri).
---
This card's TCG/OCG effect reflects how its effect in the manga is usually used with Odd-Eyes Mirage Dragon and Odd-Eyes Persona Dragon, both bearing 1200 ATK (in the manga, this card's effect inflicts damage equal to the ATKs of the monsters in the Pendulum Zones).
---
The colors of the three Odd-Eyes Dragons that debuted in the manga represent the three colors the human eye perceives light.
---
Red for Odd-Eyes Persona Dragon
---
Blue for Odd-Eyes Phantom Dragon
---
Green for Odd-Eyes Mirage Dragon.