Odd-Eyes Advance Dragon
---
Dragon / Effect
DARK /
8
---
You can Tribute Summon this card by tributing 1 Level 5 or higher monster. If this card is Tribute Summoned: You can destroy 1 monster your opponent controls, and if you do, inflict damage to your opponent equal to its original ATK. When this card destroys a monster by battle: You can Special Summon 1 Level 5 or higher monster from your hand or GY in Defense Position, except "Odd-Eyes Advance Dragon". You can only use this effect of "Odd-Eyes Advance Dragon" once per turn.
---
3000/2500
CARD ID:
61391302
STATUS TCG: Not yet released
Powered by
yugioh.wikia.com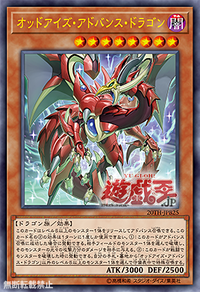 Card Trivia
This card is probably a direct evolution of Odd-Eyes Dragon as the Four Dimension Dragons of the Tribute Summon.
---
On the OCG, the Tribute Summon is called Advance Summon.
---
Also, this card does not have the red and green Orbs on its back. These orbs appear in the artwork of Odd-Eyes Pendulum Dragon and its evolutions (Odd-Eyes Raging Dragon, Odd-Eyes Lancer Dragon and Odd-Eyes Revolution Dragon), as they represent their relationship to the Pendulum Summon.