Number 39: Utopia Beyond
---
Warrior / Xyz / Effect
LIGHT /
6
---
2 Level 6 monsters
If this card is Xyz Summoned: The ATK of all monsters your opponent currently controls become 0. Once per turn, during either player's turn: You can detach 1 Xyz Material from this card, then target 1 face-up Xyz Monster you control and 1 "Utopia" monster in your Graveyard; banish the first target, and if you do, Special Summon the second target, then gain 1250 LP.
---
3000/2500
CARD ID:
21521304
Powered by
yugioh.wikia.com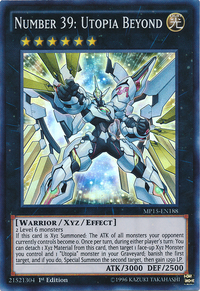 TCG SETS
Card Trivia
Similarly to how CXyz Barian Hope is a combination of the Seven Barian Emperors' Number C10X cards, this monster's appearance is similar to a combined form of Number 39: Utopia, Number 39: Utopia Roots, Number C39: Utopia Ray, Number C39: Utopia Ray V and Number C39: Utopia Ray Victory. In the anime, its Summoning animation depicts the four previous evolved/devolved forms of Utopia combining with the original to create this monster.
---
This monster may also be the Astral World counterpart of the Barian World Number C39: Utopia Ray V, as it was initially summoned with Rank-Up-Magic Astral Force in the anime.
---
In the OCG, this is the only Number 39 monster that is not a Utopia monster by name, but treated as one by its effect. As such, it is the first card in the OCG to possess an archetype condition.
---
In the TCG, this card does not have an archetype condition, as its name was changed to include Utopia in its name.
---
This is the only Number monster, whose number forming animation during its summoning sequence, ends with the numbers having an afterimage in various colors, instead of a single color.
---
This is one of only two cards which, in its card text, mentions a specific number which is not a multiple of 100. The only other card to do so is another Utopia evolution: Number S39: Utopia Prime.
---
This is the first and only card to increase a player's LP by a fixed amount of a number ending in 50 through a card effect, rather than by half of an odd number.
---
This is the only Utopia card that has an effect to increase LP.
---
The amount of LP gained is half of the original attack of Number 39: Utopia and Number C39: Utopia Ray. (The anime effect was to gain half the ATK of the monster that was Summoned by the effect.)
---
This card is tied with Number C73: Abyss Supra Splash for the highest ATK of all Rank 6 monsters.
---
This card's Japanese name, Beyond The Hope, appears to be an allusion to the song Beyond The Time, the ending theme of the film Mobile Suit Gundam: Char's Counterattack. The battle that introduced this card in the anime is highly reminiscent of the final battle in that film - in both cases, the protagonist is a peacemaker with a white-armored machine, while the antagonist is a sympathetic villain with a larger red-armored machine plotting to crash one world into another.
Rulings
---
OCG Rulings
---
The "This card is always treated as a "
Utopia
" card." is not treated as the effect of an Effect Monster.
: Number 39: Beyond the Hope
Because "This card is always treated as a "
Utopia
" card.", you can equip this card with "ZW - Lightning Blade".
The "When this card is Xyz Summoned: The ATK of all monsters your opponent currently controls becomes 0." effect is a mandatory Trigger Effect. (This effect does not target.)
The "banish the first target, and if you do, Special Summon the second target from your Graveyard, then you gain 1250 Life Points." effect is a Quick Effect. (This effect targets 1 face-up Xyz Monster you control and 1 "Utopia" monster in your Graveyard.)