Needlebug Nest
---
Normal / Trap
---
Send the top 5 cards of your Deck to the Graveyard.
CARD ID:
84968490
Powered by
yugioh.wikia.com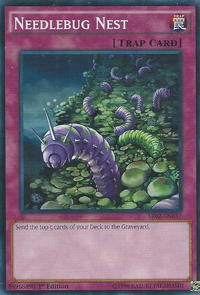 TCG SETS
Card Trivia
The fifteen purple Monsters are a partial evolution between Acid Crawler and Needle Worm, the green Monster is the stage of evolution between Petit Moth and Larvae Moth.
---
This is supported by the fact this card has the same effect as Needle Worm, except it applies to yourself.
---
This card has an anime-only counterpart; Mine Blast.
Rulings
Previously Official Rulings
"Needlebug Nest" cannot be activated if you have less than 5 cards in your Deck.
If you activate "Needlebug Nest" and an effect is chained that reduces the number of cards in your Deck to 4 or less, when "Needlebug Nest" resolves you will send every card remaining in your Deck to the Graveyard.