Miniborrel Dragon
---
Dragon / Link / Effect
---
2 "Rokket" monsters
If you control a "Borrel" Link Monster while this card is in your GY: You can Tribute 1 Link-3 or lower monster; Special Summon this card, but it cannot be used as material for the Link Summon of a monster with the same Link Rating as the Tributed monster. You can only use this effect of "Miniborrel Dragon" once per turn.
---
ATK/800 [LINK-2]
CARD ID:
73341839
Powered by
yugioh.wikia.com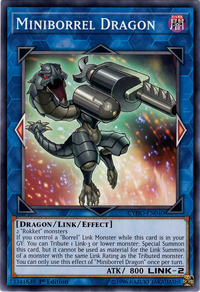 TCG SETS
Card Trivia
The appearance of this monster is very similar to the members of the Gun Dragon series.
---
Each of the Borrel Link Monsters' Link Arrow locations seem to be based on a junction of their names, appearances, attacking methods or some combination of the three.
---
In the case of this monster, its active Link Arrow locations seem to take after its odd non-centered appearance--as in respect to the center of its body, this monster's head elongates off to the Left and its weapon is off to the Right.