Metalfoes Steelen
---
Psychic / Pendulum
FIRE /
2 /

8
---
Pendulum Effect: Once per turn: You can target 1 other face-up card you control; destroy it, and if you do, Set 1 "Metalfoes" Spell/Trap Card directly from your Deck.
---
Monster Effect: ''Cool iron bodies meet burning metal machines and man/machine combine. Burn up the soul - Metalfoes Fusion!!''
---
0/2100
CARD ID:
60473572
Powered by
yugioh.wikia.com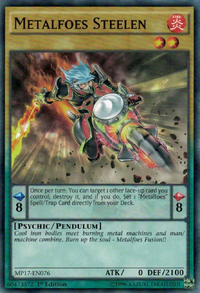 TCG SETS
Card Trivia
Metalfoes Adamante is the Fusion counterpart to this monster.
---
This monster appears in the artworks of Metalfoes Counter and Dragonic Diagram.
---
This is the first and so far the only Normal monster whose flavor text is a Summon chant.
---
Like the other Metalfoes monsters we can identify a spoon in the artwork.
---
Is a reference to psychic ability to bend spoons
---
The spoon is localized in left arm.