Metalfoes Orichalc
---
Psychic / Fusion / Effect
FIRE /
8
---
2 "Metalfoes" monsters
If a "Metalfoes" monster you control attacks a Defense Position monster, inflict double piercing battle damage to your opponent. If this card is sent from the field to the Graveyard: You can target 1 card on the field; destroy it.
---
2800/2200
CARD ID:
28016193
Powered by
yugioh.wikia.com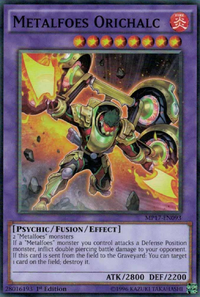 TCG SETS
Card Trivia
This card is a Fusion counterpart to Metalfoes Goldriver after the effects of Metalfoes Fusion.
---
This monster appears in the artwork of Metalfoes Combination.
---
This, Metalfoes Mithrilium and Fullmetalfoes Alkahest are the only Metalfoes Effect Monsters.
---
Like the other Metalfoes monsters we can identify a spoon in the artwork.
---
Is a reference to psychic ability to bend spoons
---
The spoon is localized in both legs.