Metalfoes Counter
---
Normal / Trap
---
If a card(s) you control is destroyed by battle or card effect: Special Summon 1 "Metalfoes" monster from your Deck. During either player's turn, except the turn this card was sent to the Graveyard: You can banish this card from your Graveyard; add 1 face-up "Metalfoes" Pendulum Monster from your Extra Deck to your hand.
CARD ID:
33327029
Powered by
yugioh.wikia.com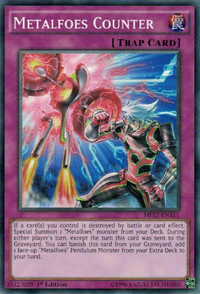 TCG SETS
Card Trivia
Metalfoes Steelen appears in this card's artwork, presumably prior to being transformed into Metalfoes Adamante.
---
The Spanish name of this card was mistranslated from English, since contador refers to something or someone that counts. A more fitting name could have been Contraataque Metalmórfico.