Mask of the Accursed
---
Equip / Spell
---
The monster equipped with this card cannot attack. The controller of the equipped monster takes 500 points of damage during each of your Standby Phases.
CARD ID:
56948373
STATUS TCG: Unlimited
Powered by
yugioh.wikia.com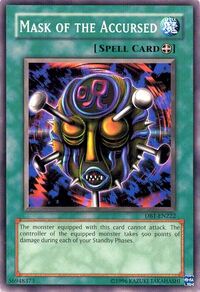 TCG SETS
Card Trivia
This card's artwork is taken from , specifically from the panel showing this mask being equipped to Beta the Magnet Warrior.