Manju of the Ten Thousand Hands
---
Fairy / Effect
LIGHT /
4
---
When this card is Normal or Flip Summoned: You can add 1 Ritual Monster or 1 Ritual Spell Card from your Deck to your hand.
---
1400/1000
CARD ID:
95492061
Powered by
yugioh.wikia.com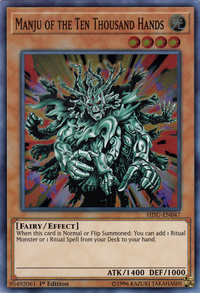 TCG SETS
Card Trivia
This card has counterparts known as Senju of the Thousand Hands.
---
Senju is a weaker version of this card, as it only adds Ritual Monsters, while this card add either a Ritual Monster or a Ritual Spell.
---
As such, Manju can also be considered an improved counterpart of Sonic Bird, which searches only Ritual Spells.
---
Including the hands on his head, this card has 31 visible hands.
---
This card's artwork is based on the international artwork of Senju of the Thousand Hands.
---
Manju means ten thousand hands.